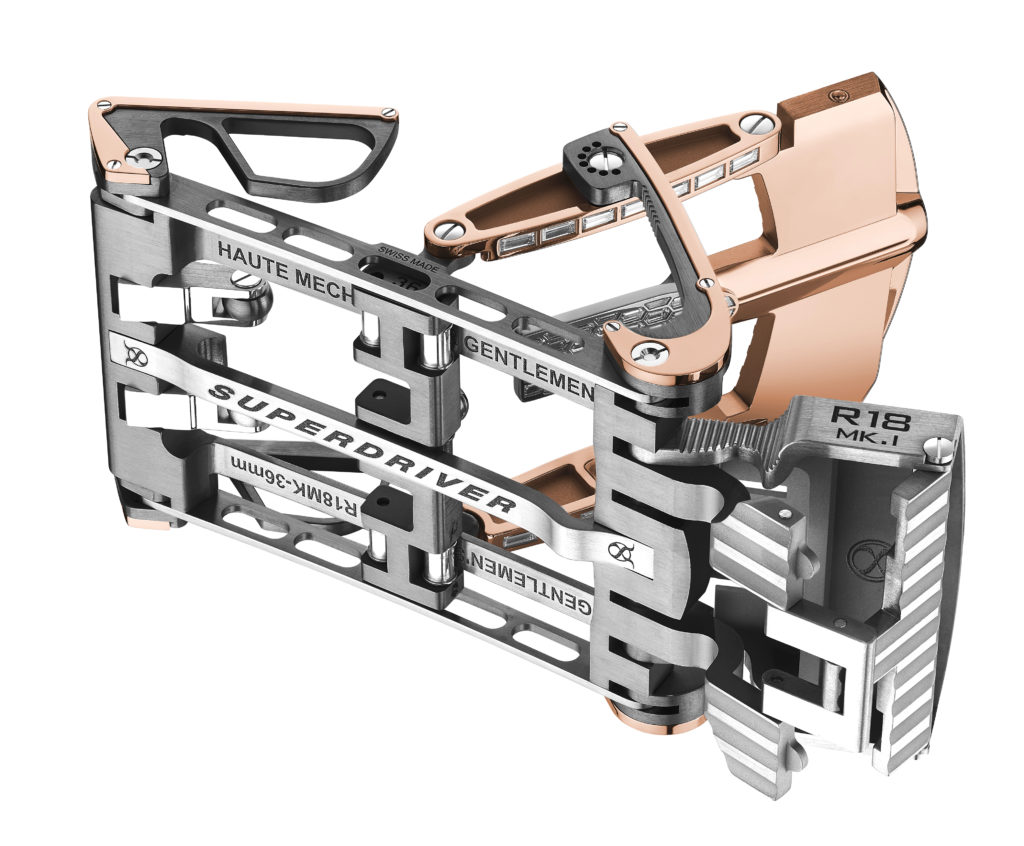 WatchProSite Moderator Patrick_y writes about Roland Iten belt buckles, pieces of mechanical art  perfect for those who embrace the high horology lifestyle. Reproduced from WatchProSite by author Patrick Yuan on February 3rd 2021.
A Prologue
A lot of our members and many of my friends are constantly asking me what watch they should buy next. And many of these individuals own dozens of watches. Is there a law of diminishing returns for the next watch? Does buying the 25th watch give you the same pleasure as buying your first?  We all want to chase that "First" feeling again. I always tell my friends, think outside of the box, it doesn't have to be a watch!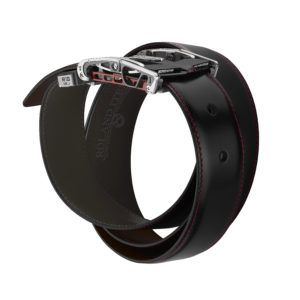 This is why I've diversified a little bit outside of watches and gone for the "lifestyle" where my life is not only surrounded by watches, but by clocks and other mechanical objects similar to watches. Over the past few years I've acquired clocks, mechanical art, watchmaking furniture, and two Roland Iten belt buckles. And like the Robert Frost poem, taking the road less traveled does indeed make a huge difference. When buying another watch, it was rare for the excitement to last.
Ownership of a Roland Iten belt buckle is a special thing; known as the world's most expensive belt buckle, it is the genius of inventor Roland Iten, who heads this eponymous brand. Iten is a long-time veteran of the Swiss watch industry. He comes up with special technical solutions for the watch industry and you've seen some of his work whether you know it or not.  For me, Roland Iten belt ownership is an extension of watch collecting, I can only wear one watch at a time (okay, two watches if I wear one on both wrists; four if I wear them on my ankles) so wearing a mechanical belt buckle that is handcrafted in the same manner a watch is crafted is something I enjoy immensely and would imagine all watch collectors enjoy.
What makes Roland Iten Belt Buckles So Special?
Roland Iten belt buckles are adjustable, meaning they can adjust in tightness without having to undo the belt itself.  If you have a large meal, you can loosen your belt. About to play some golf, you can tighten your belt. Getting into your car, one can loosen your belt a little bit, then tighten it when you get out of the car. The mechanism is beautifully designed, highly intuitive, and a joy to use.
There is a practical purpose behind it!  But practicality aside, you're also getting a work of art with impressive design and craftsmanship. Virtually all of the belt buckle parts are made from the same CNC machines that make watch parts. The tooling to create the parts, assemble the parts, and service the parts are all custom built. Some belt buckle models have diamonds and gold and borrow technology and practices from the jewelry industry. Some models even have sapphire glass, the same type of glass used in watch crystals. Parts are beautifully finished and decorated, some of the decorations resemble the same you'd see in haute horlogerie.
It's also important to note that before Roland Iten brought his products to market back in 2004, a time when there was no mechanical belt made like high horology in existence. The idea was completely pioneered by Roland Iten who took tremendous risks to launch his own brand. Making an ultra-luxury mechanical belt buckle back in 2004 was like Christopher Columbus trying to sail West to reach India. Iten was in uncharted waters, with production surprises, production limitations, and because Iten was an obsessive perfectionist he encountered massive problems.
Many watch part supply companies had difficulty creating such large and unusual components and weren't accustomed to such low quantities, this forced Iten to do all of his own parts manufacturing in-house. Take for example a metal bar spring (not a coiled tension spring, a semi-rigid metal bar that bends and acts as a spring); a metal bar-spring in a watch is quite small and has to be made of a special steel that will retain its shape yet be very flexible.  Certain belt buckles require similar springs, but made in a larger size, and most suppliers aren't accustomed to making it in such a size, the material in a larger size needs to be more rigid (or else it'd be too flexible), so sometimes the metal type needs to be changed to a harder or more crystalline structure metal, this requires a change in the tooling since certain tools only work with certain metals…  It can be quite complex!  To date, Roland Iten is still the only and the original Haute Horlogerie mechanical belt buckle.
Rarity
Some people think Patek Philippe watches are rare. They are pretty rare, and it's rare to see one, even in major cities around the world. But despite how rare Patek Philippe watches are; they still enjoy economies of scale in production, screws are bought by the tens of thousands, springs are ordered thousands at a time, the cost to produce an item can be reliably calculated, and the business is a sound business. Imagine a standard hotel room, they're practically a repeated template.
Moving up the rarity ladder, it's really rare to see an MB&F watch, those are super rare. They only make a few dozen watches a year. MB&F cannot benefit from economies of scale and subsequently their production costs balloon. Furthermore, MB&F hardly uses any "normal" parts for their watches, even their hairsprings are an unusual extra-large size with a Breguet terminal curve bending operation that is much more difficult to manufacture than a flat hairspring (and even the top big brands use flat hairsprings); this means that their parts are exponentially higher in cost due to these ultra-haute-horlogerie technological requirements. The fact that these are proprietary parts that aren't used in any other watch means these parts are made only for MB&F and thus virtually custom made. While I don't have exact numbers (MB&F is a privately held company), you can rest assured, the cost to produce an MB&F watch is much higher than the equivalently priced timepiece from a large producer.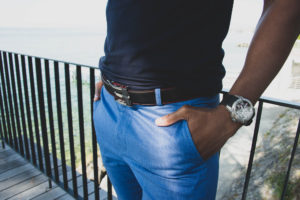 At the top rung of the rarity ladder, imagine the small team at Roland Iten, they only make a dozen or two belt buckles a year. Each buckle can have over a hundred components, almost all of these components are custom made and are not used anywhere else in any other industry, so the costs can sometimes be even higher than small independent watchmakers because at least their parts are already used in the watch industry. Many of these components are even custom made in gold, further escalating the costs as special technical processes have to be done for manufacturing parts in gold.
Then, finally amortize the design costs, when a watch company will make hundreds of the same watch design (or thousands) Roland Iten pieces are limited to a couple dozen to a few dozen of each design. Thus, amortizing the design fees alone over such a low number of units is another cost to consider; imagine a designer charges $1000 per design; if you only make ten copies, each one is going to cost you $100 just in design fees, but if you make 1000 units, then each one is only $1. Only one man designs these special creations, and that's Roland Iten himself.
What is it Like to Own a Roland Iten Belt Buckle?
Some watches are wonderful to own, until you have to endure the servicing experience, and most of the time that servicing experience is a total let-down (this is an area that few brands get right)! I won't name names, but many watch brands do an awful job servicing watches; often overpolishing a watch, or the complication doesn't work, or a screw is loose, etc. Service is by far the worse part about owning a high end wrist watch. How does the Roland Iten belt buckle compare?
Well, there's very good news here, Roland Iten belt buckles are entirely maintenance free. As mentioned before, I own two of them (the first for about 7 years, the second for about 3 years). The special titanium rollers are all designed with special bearings that require no lubrication. Everything is built from the finest materials (gold, steel, some models have sapphire crystals, small bits of ceramic, and titanium being the predominant materials), constructed with great care and precision, and designed to be maintenance free.
However, accidents do happen, I noticed I had gotten a big scratch one day!  Must've been that airplane seatbelt buckle when I was sleeping!  Fortunately, Roland Iten removed the scratched part by disassembling the buckle and replacing the scratched component. Like a watchmaker he maintains an ample stock of spare parts. The entire experience was quick and efficient and far less expensive than I thought. I like this idea of replacing components more than polishing components!
A note about spare parts: The spare parts are actually a significant expense for large watch companies and it can be a crippling expense for small independent watchmakers. Roland Iten is no exception. Iten has to produce a significant stock of spare parts in order to be able to have reasonable turnaround times for repairs in order to maintain client satisfaction, but there are so many of these parts that it ends up being incredibly costly. All the costs have to be paid upfront for the production of spare parts so there is a huge capital expenditure and opportunity cost here.  Considering a belt buckle can have nearly 200 components, many of them unique, large, and the fact that Iten has made eleven different iterations over the past two decades, it is likely there are thousands of spare parts in inventory!
Overall, I really enjoy using Roland Iten products. It's a joy every time to put it on, and that joy has not faded in the past few years.  At the same time, I'm happy to support an artist who has even become a friend over the past few years.  I even try to visit Geneva even outside of SIHH/Watches&Wonders to meet with Roland and Carol Iten. The belt buckle itself is amazing and a work of art, but that special relationship with the artist is a true bonus. And that bonus is priceless.
Latest Model – The R18 SUPERDRIVER inspired by Motorsports
Roland Iten himself is an extremely discerning individual; he found his normal belt to be too tight when he transitioned from a standing position to a seated position in a low slung sports car. Roland Iten is also extremely passionate about car racing and motorsports. So it's not a surprise that he invented his adjustable belt buckle to help with perfect driving ergonomics.
Despite Roland Iten's discernment and scrutinization, he's not a serious nor stoic individual at all – just the opposite, the man is an incredibly funny and pleasant pal to be around. Always a pleasure to be around with and a genuinely content individual who is always excited to see a familiar face.  Happily married and very blessed, Iten has coined a paradoxical phrase as his personal (and his company's) motto, SERIOUSLY PLAYFUL™.
His latest model, the R18 Superdriver, is self-cleaning, requires no lubrication (very important since any lubrication could stain ones clothes, and allows the user to tighten or loosen the buckle 35mm (about 1.4 inches). I saw a prototype of the R18 about a year ago and I was enthralled; it's got thin metal parts that make it look almost skeletonized and delicate, yet it's still got a strong and sophisticated attitude with sensual curves on its exterior perimeter. The strap is 35mm wide, a great size for both jeans and dress pants. Prices start at 39,500 Swiss Francs, a steep price, but understandable once you realize how low the production is. Lastly, Roland Iten will work with you to customize the buckle to your specifications, a client can even choose a piece of inspiration (a favorite sports car perhaps) to be a design theme that will be integrated into the buckle. I'll let the photos below do the talking…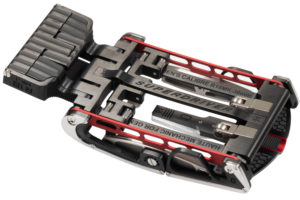 In conclusion, I advise all of our WatchProSite members to consider thinking outside of the box and to consider non-watch alternatives to get that "horological and mechanical lifestyle." As always, please feel free to comment, and I realize that there are very few Roland Iten belt buckle owners out there, even among WatchProSite members, so feel free to post your questions and I will try my best to answer them and if I can't, maybe I can get some answers from Roland Iten.