With this Tactile, Adjustable Strap Buckle by Roland Iten, it's both Useful and Relatively Affordable – That's Win/Win!
by Ian Skellern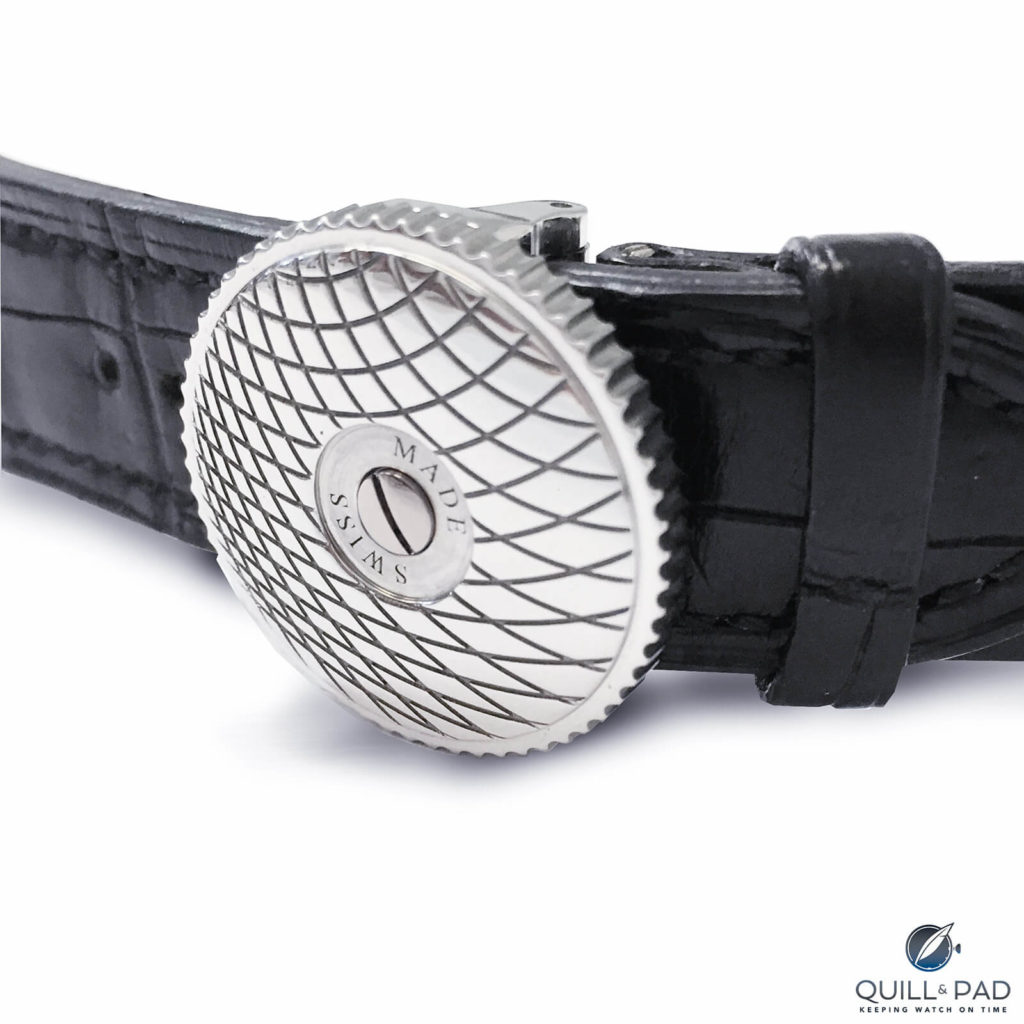 Watch straps and buckles (both pin and folding) are the nearly ideal way to fit your watch to your wrist, but they have two inherent drawbacks.
1. The standard holes in the strap are 8 mm apart, so unless you are very lucky you have to select a hole that either makes the strap too tight or too loose. Too tight is uncomfortable and too loose has the watch tending to roll around the wrist.
2. Even if you are lucky enough to find a hole on the strap that fits perfectly on one day, wrists tend to change size with both the weather and fluctuating weight.
Roland Iten, the master of mechanical luxury for gentlemen, has developed adjustable buckles that in different formats have been used by prestigious brands including F.P. Journe and Greubel Forsey. And now he has developed an easily adjustable watch strap for collectors.
Roland Iten RWC09 adjustable buckle
When developing any of his mechanical luxuries, Roland Iten places a high priority on providing a strong tactile sensation. The operation has to feel good, and this patented adjustable strap buckle is no exception. When you rotate the adjustment disk to tighten or loosen the strap, you can feel it reassuringly click, click, click as it moves from one micro-adjustment to the next.
It's not a toy, but it does feel nice to play with!
And you can adjust easily without removing your watch or even opening the clasp or buckle.
While the holes in your watch strap give you adjustment increments of 8 mm, the Roland Iten buckle provides infinite fine tuning between those 8 mm holes. And it's easily adjustable on the wrist throughout the day.
Rotating the big adjustment disk turns a small cog that moves a rack inside the buckle that slides to adjust the strap. The rack locks in place in any position as the rotation of the small-diameter cog cannot overcome the friction of turning the larger adjustment disk. It's simple and reliable.
A small spring-loaded pin slides around inside the adjustment wheel and satisfyingly clicks into tiny holes on the disk as it's rotated. This pin isn't necessary for the operation of the adjustable buckle, but it's essential in providing the tactile feedback that makes adjusting the buckle feel so pleasurable.
The standard distance between holes in a watch strap is 8 mm; the Roland Iten adjustable buckle has a micro-adjustment range of 9 mm so it comfortably provides the full range between each hole.
Built-in fail-safe security
The strap can only be fitted and removed from the adjustable buckle when the adjustment disk is in the fully tight position. This ensures that there is no risk of the strap ever falling off if the buckle is knocked.
Lubrication free
Crafted in titanium and steel, the adjustable watch strap buckle has been designed, like all of Roland Iten's products, to be lubrication free. Tolerances are designed so that any dust simply falls out. I can attest to this from personal experience, having worn a Roland Iten belt buckle daily for nearly 20 years in all situations and environments. It works and feels as good as the first day I put it on.
Suitable for both pin buckles and folding buckles, two sizes of strap widths
The Roland Iten Adjustable Buckle can easily be fitted to watch straps with both pin buckles and folding buckles. The tang on the pin or folding buckle is held by a removable spring bar, just like the one holding the strap to the lugs, which can be removed and reinserted to hold the adjustable buckle. You can either do it yourself if you have changed your own straps or in minutes at your local watch/jewelry store.
The adjustable buckle comes in two sizes: one for straps of 16-18 mm width (widest width at the holes, not between the lugs) and straps of 18-20 mm width.
This adjustable buckle is ideal for larger watches on smaller wrists as these tend to roll around the wrist.
Customizable on request
And if you want something extra-special or unique, you can ask Roland Iten to customize the adjustment disk.
Best of all, though, is the price
And best of all, this adjustable watch strap buckle is a rare Roland Iten product in that it's both very useful and relatively affordable. At 1,490 Swiss francs it's by no means cheap, but the quality is excellent. And quality costs.
For more information or to order, please contact carol@rolanditen.com.
Note that the buckle, which is available now, has been exclusively pre-launched on Quill & Pad and will be on the Roland Iten website in the coming months.
Quick Facts Roland Iten RWC09 Adjustable Watch Strap Buckle
Diameter: 25 mm
Weight: 15 grams
Mechanism: patented RWC09 adjustment buckle
Materials: titanium and steel
Complexity: 16 components
Size of strap: two options 16-18 mm or 18-20 mm strap width, maximum strap thickness at shortest hole 2.5 mm for pin buckles, 3 mm for folding buckles.
Price: 1,490 Swiss francs (excluding shipping and taxes if applicable)